Bon appetit à la
Black Forest
Experience the Black Forest with everything it has to offer:
nature, beauty and delicious culinary delights. In our restaurant, you will have the
chance to discover all the culinary specialities of our homeland: finest game specialities,
fresh trout dishes and regional specialities such as our tasty Swabian recipes.
Our kitchen team are committed to using fresh, seasonal produce and to creating local specialities,
light, healthy dishes and imaginative surprises.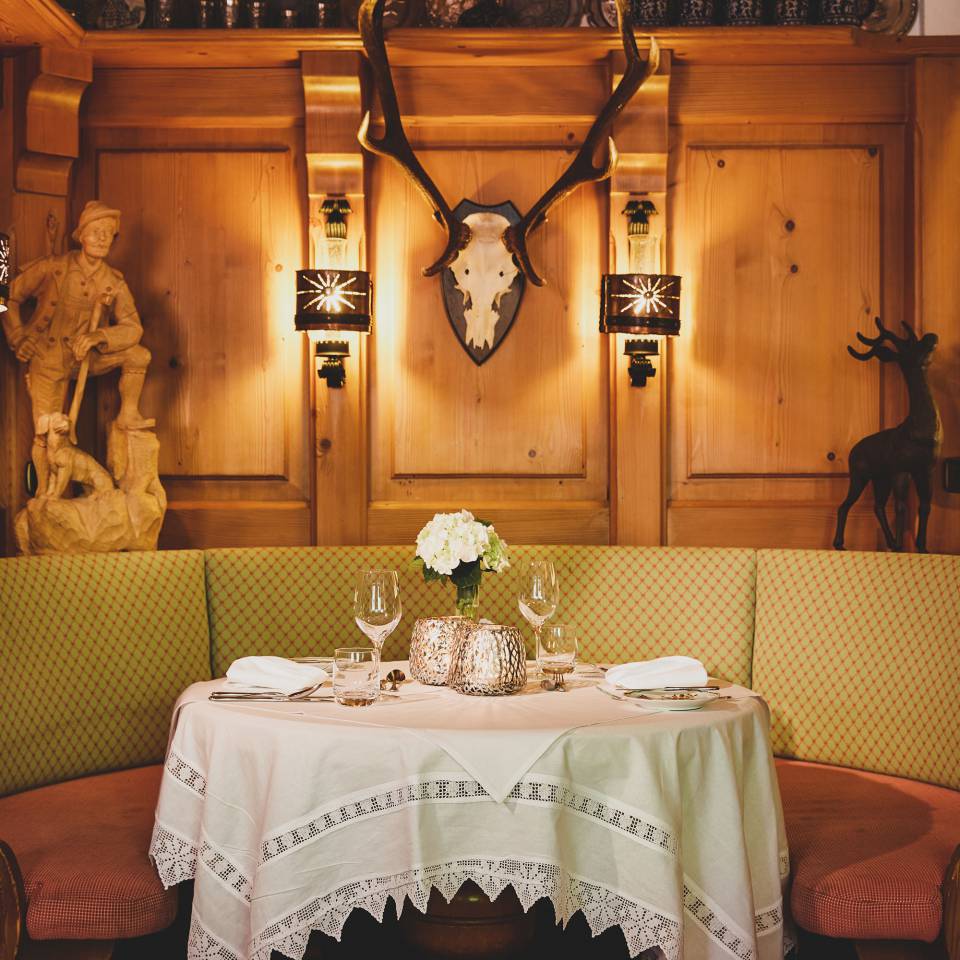 Culinary delights
Black Forest
cosiness
Cosy, rustic, warm – experience a bit of genuine Black Forest atmosphere in the little rooms of our restaurant! The wood-panelled walls and the tiled stove create the perfect setting for enjoying a hearty snack and a glass of wine or a fresh draught beer – or any of the other culinary delicacies that we prepare for you every day. We hope you enjoy them!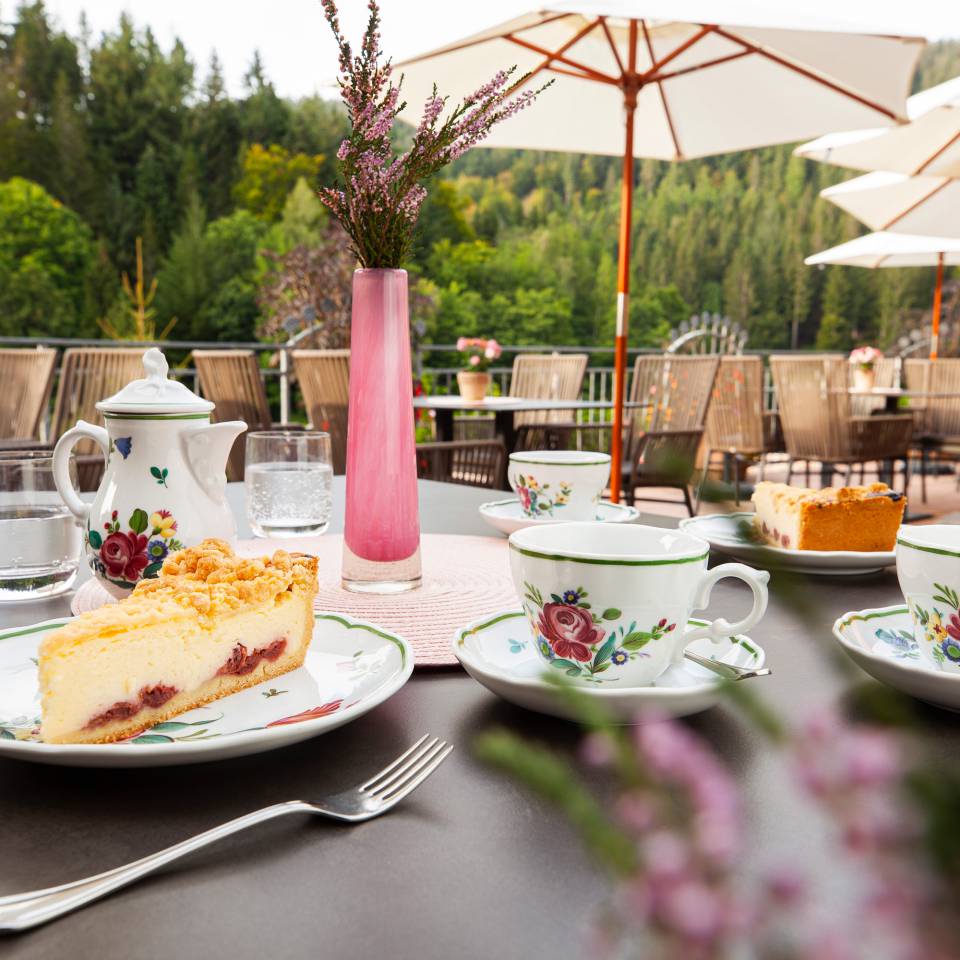 Culinary delights
Terrace
Some of our guests say that this is the most beautiful place at the Forsthaus Auerhahn: our Panorama Terrace with its amazing view along the valley to the deer enclosure. Whether you are here as one of our guests or have stopped off for a break during a day's hiking or a cycling trip – we hope you enjoy all the dishes that we offer on our menu.
We look forward to your visit!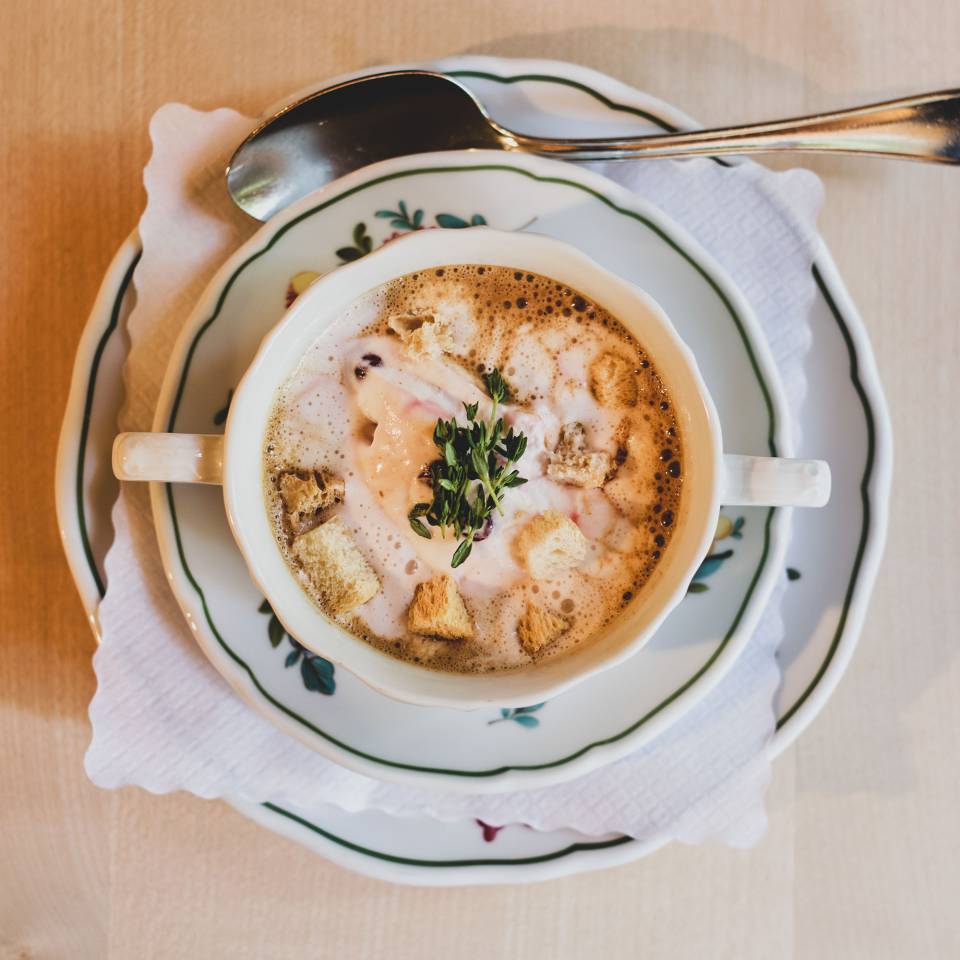 Culinary delights
À la carte
We are open for both visitors and our hotel guests: from 12.30 pm to 4.00 pm you can help yourselves from our Vitality buffet and from 12.30 pm to 5.30 pm we serve coffee, cakes and snacks. Table reservations for the evening are currently only available for either 6.00 pm or 8.00 pm and must be booked in advance at the same day, subject to availability. Our House is not suuitable for vegans.
Our restaurant rooms and terrace are open every day except for Tuesday,
when the restaurant is generally closed to non-guests.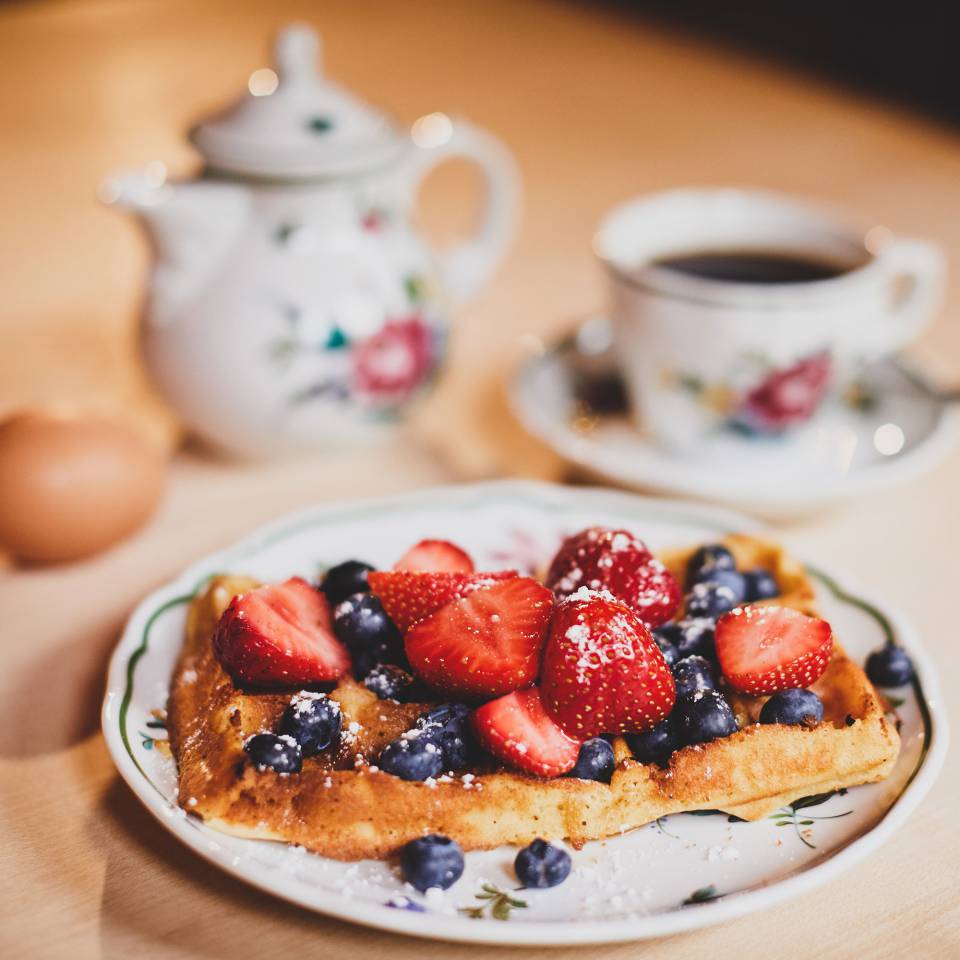 Culinary delights
Luxury 3/4 board
Make your holiday in the Black Forest into a gourmet holiday. For our guests, the day starts with a breakfast fit for a king: Fresh, crusty rolls, filling and nutritious muesli, fresh orange juice from the juice press. Both sweet and savoury dishes, from eggs cooked just as you like them and various egg-based dishes at the buffet to a large selection of organic and vegetarian products. Drink a toast to the day ahead with a glass of sparkling wine and help yourselves from our generous breakfast buffet.
In the early afternoon, you can enjoy a light meal from our Vitality buffet – crunchy salads, main courses and delicious snacks, cakes and fruit.
And in the evening, you can enjoy a 5-course dinner with a choice of 5 main courses. Festive meals, sumptuous salad buffets, Black Forest buffet, barbecue evenings and buffets of starters and desserts round off your gourmet holiday in the finest possible way.
And of course, we mustn't forget the wide selection on our wine list and our drinks menu.
Our house is not suitable for vegans!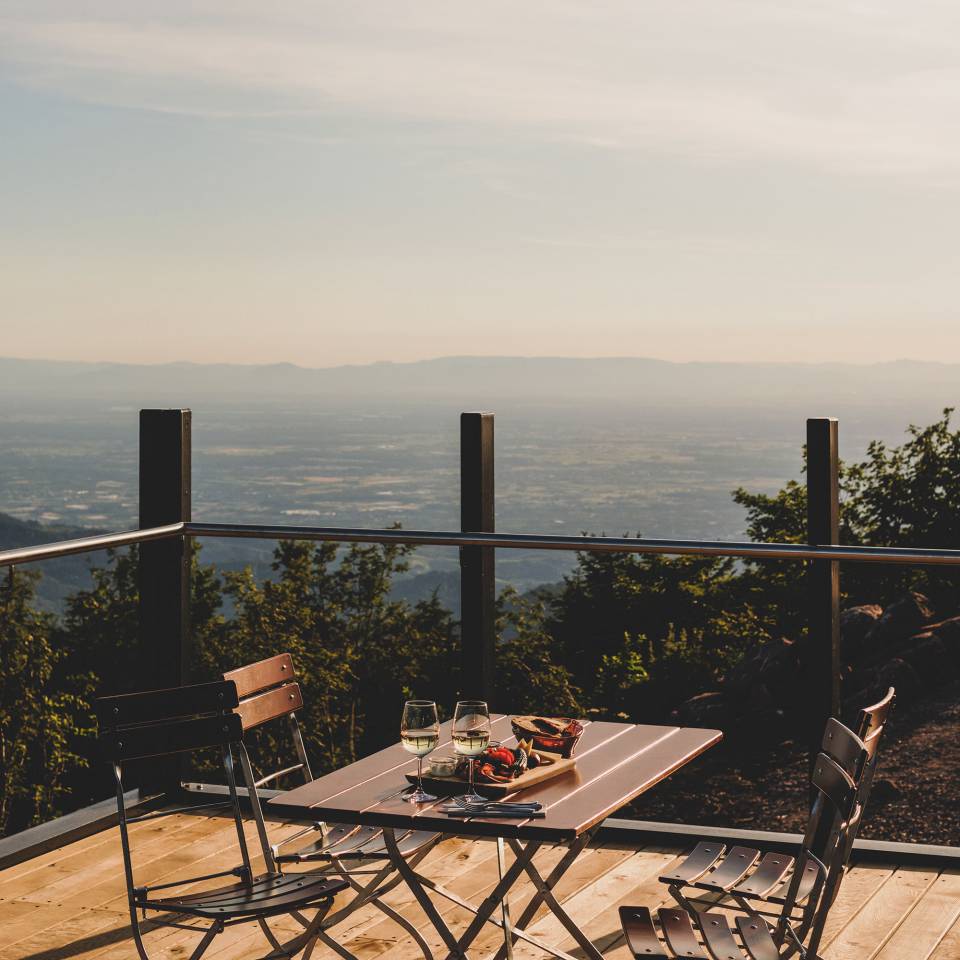 Culinary delights
Grinde Hütte
A contemporary design with a traditional feel; right up at the top of the Hornisgrinde mountain at an altitude of 1,155 m is the Grinde Hütte. Here, we will spoil you with Black Forest specialities and a dream-like view across the Black Forest and the Rhine valley.
On foot it takes around an hour to get from our hotel to the Grinde Hütte. You can also use our popular transfer service (departs daily at 10.30 am and 11 am) which takes you via the Seibelseckle and Lake Mummelsee directly to the Grinde Hütte. And if you feel like some exercise, you can take a comfortable walk back to the hotel – downhill all the way!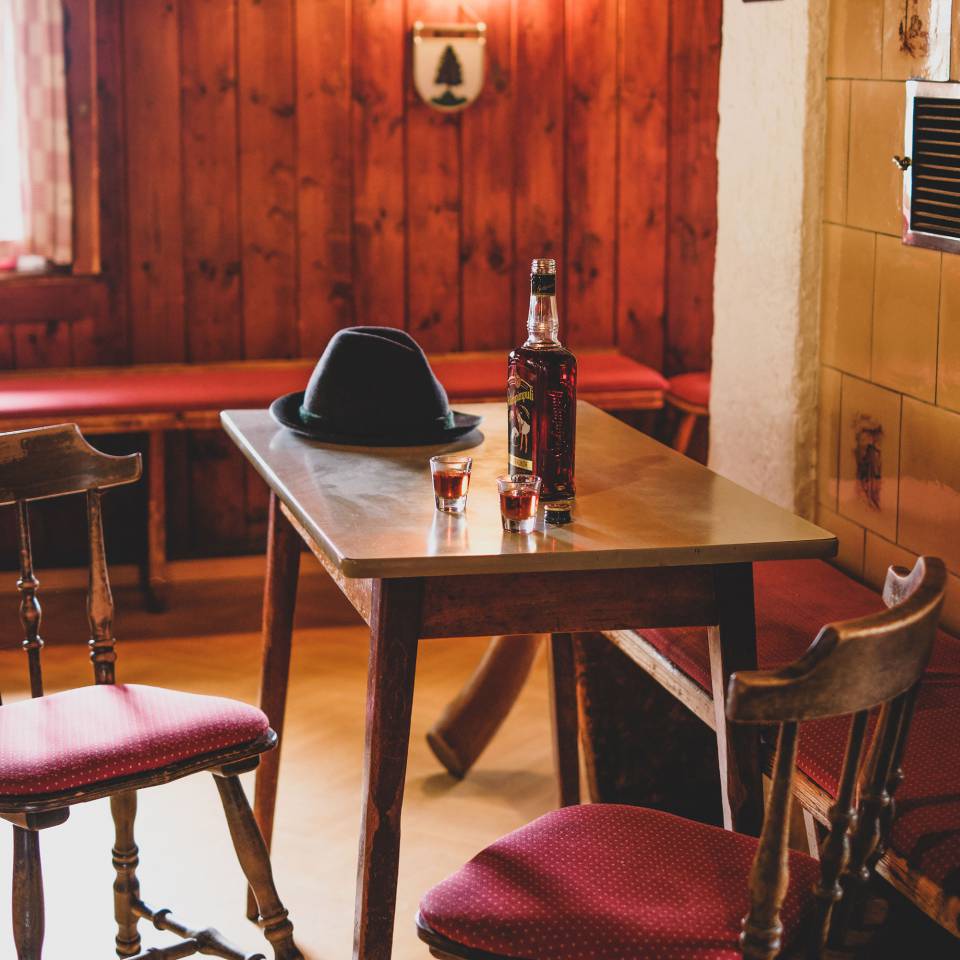 Culinary delights
Seibelseckle
The Seibelseckle is a small, typically rustic Black Forest lodge, brimming with charm and originality. Located at an altitude of 955 m, directly on the Black Forest High Route, you can gain direct access from the car park to a number of different hiking routes, and in winter to the ski lift, or make it the starting point for a wonderful cross-country skiing trip.
Or what about taking a sledge all the way down to the Forsthaus Auerhahn?
Incidentally, there is a transfer service for skiers and hikers from the hotel to the Grinde Hütte, which will bring you up to the Seibelseckle lodge, departing daily at 10.30 am.
Awards
Special awards won by the Forsthaus Auerhahn.